Will you join me on this adventure of
growing up
?
All you have to do is:
Pick a milestone that works for you. (Trust me, I KNOW life doesn't end at 30... Thank Goodness!)
Make a list of things to accomplish between now and then. They can be big or small things... To me, this is just one step closer to living life a little fuller!!
Post my "30 Before 30" button on your page to let everyone know you're playing alone (if you want).
We'll check-in periodically to see how things are going... I can't wait! (It's never too late to join in!)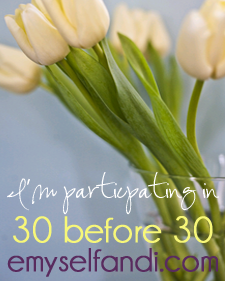 (I should probably also mention that this idea is not uniquely mine. LOTS of people on the internet etc. have lists like this. Check em out!)
My List:
1. Write a book (Even if I NEVER publish it.)
2. Become a mom (7/12/2011)
3. Run a half-marathon
4. Perform in a play
5. Plant a garden
6. Learn to sew and make something I can wear
7. Cook an entire Thanksgiving meal by myself
8. Go to another continent (besides Europe)
9. Drive across the United States (7/2010)
10. Paint a painting I'm proud of
11. Learn basic photography and PhotoShop
12. Take a class just for fun
13. Read the Bible cover-to-cover
14. Visit all 11 of my college girlfriends at their homes
15. Present at a national teaching conference (NCTE 11/20/10)
16. Read the top ten novels of all time (
Modern Library Association List
)
17. Take a "girls only" vacation w/ my mom and sister
18. Get something published (poem, article, etc.)
19. Go on an overnight hiking trip
20. Go to Disney World (I've never been) (11/18/ 2010 & 11/19/2010)
21. Refinish a piece of furniture
22. Mentor a younger girl
23. Get a make-over and buy the make-up
24. Take HIP-HOP dance lessons and show them off at a club
25. Decorate someone else's house
26. Finish my scrapbook from London (started in 2004)
27. Grow my hair out past my shoulders (Fall/Winter 2011)
28. Wear a bikini and not be self-conscious
29. Learn yoga
30. Learn a song on the guitar
Visit my original post & find other 30 Before 30 Lists
right here.